Railway track ballast-a brief history
Charlie Niven
In January 2020 came the news that Cloburn Quarry Company is the new tenant of the Ravenstruther rail terminal. This quarry produces ballast for railways in Scotland and further afield and the news spurred the idea of writing about the history of track ballast.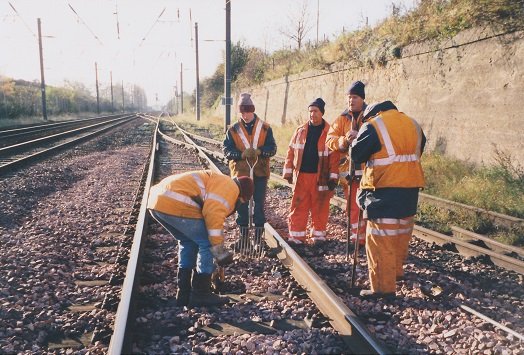 Plate 1 A Permanent Way gang digging out stone (microgranite/felsite) ballast during a track renewal investigation in East Lothian. Note the use of the ballast graip. Author's collection.
In a modern railway the purpose of ballast is 1) to transmit the forces exerted on the sleepers onto the underlying formation; 2) to hold the sleepers in position through the interlocking of the angular stones and 3) allow water to drain away efficiently and rapidly. Nowadays the material used is one of a few types of quarried rock and needs to comply with Network Rail Standards. This was not always the case and, in fact, it is only in fairly recent times that stone ballast has become a universal material in permanent way construction and track renewal.
Track ballast- the early times
Looking back to the earlier types of railway we see that the immediate precursor of modern railways were wooden waggonways. These had been in existence since the early 17th Century but it was not until the following century that we find a description of waggonway ballast: "Waggonway ballast was no doubt originally reused ships' ballast, with which Tyneside (and the bed of the Tyne) was liberally provided by the colliers. At Whitley in 1704, when the word first occurs in a railway context, clinker from the salt-pans was used 'for the ballast of the waggonway', a material much used thereafter, along with coke, cinders from colliery pumping-engines, gravel and even small coal." The difference between waggonway ballast and railway ballast is also given in the same reference: "In a modern railway, the weight of a train is transmitted through the rails to the sleepers, which in turn rest on the ballast. On wooden waggonways, however, some of the weight of traffic was transferred to the ballast directly by the rails. The sleepers rested on a thin layer of ballast, which was primarily to assist the drainage, and they served as much to keep the rails to the right gauge as to transmit the load.".
Ref. 1 pp. 163-164
Track ballast- the advent of the mainline railways
Mainline railways were developed from the 1830s onwards but as there are few contemporary written references to track ballast, so any accurate account is particularly valuable. A civil engineer named Francis Wilshaw evidently travelled around the UK inspecting most of the railways then extant in the late 1830s and early 1840s and describing what he found in great detail. This book The railways of Great Britain and Ireland practically described and illustrated is well worth reading to get a feel for the contemporary 'state of the art' of most aspects of railway engineering; however fans of signalling will be severely disappointed.
It is available in digital form here:
catalog.hathitrust.org
(Under the sub-heading Viewability click on Full View.)
Based on the contemporary evidence of the above writer it seems to be clear that gravel (and sand) as well as 'broken stone' were the predominant materials used for track ballast by many railways; 'small coals' (see Note 1) were used in coal-mining areas: see Appendix 1 for details. In general the material used was what occurred in the area and could be obtained economically either as part of the general earthworks disposal or specially excavated along the route from a side-cutting (see Note 2) or quarry during construction.
An example of how ballast resources were found and their extraction implemented during construction may to be found in the Resident Engineers' construction diary. This consisted of weekly reports sent from the site to the Consulting Engineer's office; a copy of these reports would probably have been kept on site in a log book. These documents do not often make it into the public records as they would have been kept by the consulting firm who employed the Resident Engineers. However in the case of the Borders Union Railway two report books dating from the late 1850s and early 1860s have survived and are now housed in the railway company records collection of the National Records of Scotland. Ref 2
In these report books there are descriptions of the planning and setting up of temporary quarries which were used to supply broken rock for ballasting the permanent way. The Ordnance Survey 6" map shows the location of one such quarry:
Figure 1. Roxburghshire, Sheet XLV (includes: Castleton) NGR NY 50888 90479
Survey date: 1858 Publication date: 1863
NLS
According to the British Geological Survey (BGS), the rock type in this quarry is basalt also known as whinstone. When the rock had been excavated it had to be further broken into small pieces and there is a reference to the use of hammers in the Resident Engineer's report. Ref. 2 The technology to crush rock had been developed by 1860 but a portable crusher was not yet available in a form suitable to be transported to this location in the wilds of Liddesdale so it seems that the contractors needed to use hand methods; it would have taken a lot of labourers a lot of time and effort to break up hundreds of tons of stone with heavy hammers to provide enough material to ballast hundreds of yards of permanent way but they would have been well used to the job in the early 1860s.
Of course not all railways routes would have passed so close to a source of rock which could be quarried and broken so conveniently nor were such resources available in all parts of the country. Gravel and sand were, on the other hand, fairly widely available in many areas as these deposits are often associated with river valleys where railways tended to be built.
What one might not expect would be that an area renowned for its granite quarries and therefore a potential source of broken stone, in fact, relied on gravel and sand deposits for track ballast for many decades after construction until the mid-twentieth century when broken stone finally took over as the standard material for ballasting the permanent way. Thus it is not surprising that writers have been mistaken into thinking that, perhaps, Cambus o'May ballast siding was a place for loading broken granite chippings from the nearby granite quarry. In fact the siding shown on Ordnance Survey maps to be leading away from the running line to an area of excavation on the hillside a few hundred yards away to the north east was actually extending into a gravel and sand pit. The BGS description of the area runs: "Extensive terraced deposits of sand and gravel lie on both banks of the River Dee west of Dinnet...." Ref. 3 So whilst there is no evidence that the Cambus o'May granite quarries produced crushed rock for railway use there is conclusive evidence that the ballast pit did produce gravel and sand for ballasting the permanent way.
Similar cases were to be found in many other areas of the North East of Scotland and in the Highlands. There were several reasons for using gravel and sand for track ballast as opposed to broken stone although the latter was, even then, recognised as a superior material: it was easy to excavate by hand; it was easy to spread out and use on the track; it provided good drainage and stability for the sleepers when applied correctly, consistently and frequently. A further advantage of using gravel and sand was that it could be obtained from pits adjacent to the running line allowing extraction as and when required; adjacent land would be used once the landowner had sold or feued out the ground for extraction. Delivery would be achieved by the company's own workforce of waymen with a locomotive and crew hired internally. Working the ballast pits was always kept in-house and thereby costs could be kept under control. Using broken-stone ballast meant using an external supplier over which a railway company had little control as regards supply, delivery or pricing.
Looking in more detail at company records for railways in the North East of Scotland from the 1850s onwards it is clear that they used gravel and sand as the main material in ballasting.
Taking the Deeside Line between Aberdeen and Ballater comprising the Deeside Railway (DRCo.), Deeside Extension Railway and the Aboyne and Braemar Railway Companies there were ballast pits at the following locations:
Murtle
Figure 2. OS 25" First Edition map extract 1865 Murtle Station showing 'Gravel Pit' within railway boundary.
At a DRCo. Board meeting in 1861 the Directors allowed Mr Whyte, a Director, to take "sand" from the "ballast bank" near Murtle Station for building a house on his land and encouraged others to do likewise. Ref. 3 The Murtle ballast pit had closed by the end of the century as the ballasting between Ferryhill Junction and Culter had been converted to stone ballast in earlier years probably at the time the line was doubled.
Crathes
OS 2nd Edition 6' map from 1904 showing the extent of the gravel ballast pit at Crathes. This pit location was probably established at the time of construction 1852-53; the station arrived in January 1863 having moved from Mills of Drum. The recommendation to install a siding was first made in a letter to the Deeside Railway Co. Board of Directors by their Resident Engineer, John Willett C.E.:"Aberdeen 26th November 1862 We are in want of Ballast on some parts of the Extension, and before we can do anything it will be necessary to put a siding into the ballast pit at Crathes." BR/DEE/1/3 By the time of the 1863-64 survey for the First Edition OS map it seems to have been removed. The points would most likely have faced the Down direction. By 1904 a large area was being exploited and, as shown, had a siding whose points faced the Up direction west of the station. Large amounts of material were taken from this pit; however the points were removed in June 1914 and this area was closed. By the time of the 3rd Edition OS map survey in 1922 the ground was covered by trees.
Cambus o'May
This ballast pit near the west end of the line probably had a siding built into it from the outset. The Ordnance Survey map of dated 1865 shows a set of points facing the Up direction with a line running in an easterly direction for a few hundred yards into the hillside where there was a pit. A newspaper item suggested that the gravel and sand ballast pit here was in being used for ballasting the permanent way ("working materials") towards Aboyne during the summer of 1866 in the final weeks before the Aboyne and Braemar Railway was officially opened:
"Local Intelligence
The works of the Aboyne and Ballater Extension Railway (sic) are progressing rapidly. The permanent rails are laid along as far as Cambus o'May, where the service engine is working materials to and from Aboyne daily." Ref.4
Cambus o'May ballast pit siding
OS 25" 1st Edition map extract Aberdeenshire XCII.2 (Glenmuick Tullich and Glengairn)
Survey date: 1865 Publication date: 1868
Plate 2 An example of the type of gravel and sand used as track ballast on the Deeside Line. The largest gravel pieces are about 5-10mm across.
Author's collection.
Very few contemporary railway photographs show the track in sufficient detail to be able to determine the composition of the ballast: however by looking carefully at these it can be seen that the ballast is not composed of broken stone. In the George Washington Wilson Collection in the Library, Special Collections and Museums Department at Aberdeen University there is online access to some of the photographer's images. Follow the link to
https
Go to the 'Photographic Collections' link and then click on 'Search'; on the next screen click the tab 'Search' just under the University logo. Under a 'Simple Search' using the dropdown menu 'George Washington Wilson Photographic Collection' do a search for 'Cults Station'. Zoom in to the foreground track area and it is clear that the ballast is granular with some small stones/coarse gravel. The ballast is clearly not 'granite chippings' so familiar in photos from the 1950s and 1960s. Next do a search for 'Oyne Station' again zoom in on the track area and this time there is clearly visible the broken stone of the modern railway.
What progress had been made in introducing broken stone by the end of the Nineteenth Century? Elsewhere in Aberdeenshire the granite quarries' use of mechanical rock crushers had made possible a breakthrough at John Fyfe's Kemnay quarry. A local paper diligently reported: "Following in the wake of the London and North-Western, the Great Western, and other lines in England, the directors of the Great North of Scotland Railway are taking steps, as already reported in our columns to substitute granite chips for sand and gravel in ballasting the permanent way of their system. This enterprise on their part, if it has not created a new industry at Kemnay Quarry, has at least helped the development in a new channel of the large stone trade there. For bottom ballast on the G.N. line granite chips to the depth of about ten inches will be put in by the railway company and on this bed the permanent way will be laid nine inches of broken road metal being used above the sleepers for boxing. It is calculated that this new departure will benefit the railway company in several ways. At present, for instance, in times of frost, the sand ballast may swell or rise. The use of stones will obviate this. It is also expected that the broken stones will allow rain to drain quickly away. There will thus be a drier and more compact bed. The raising of dust on the passing of trains will also be minimised, and the comfort of passengers thereby be promoted, as well as injury to the working parts of locomotives, carriage wheels, &c., be prevented. Mr John Fyfe is supplying material for the new ballast from his well-known quarry at Kemnay, which is the largest granite quarry in Scotland." Ref 5.
The GNoSR was not the only railway company to use granite from a quarry in the north east however: "In 1910 Fyfe's entered into a five-year agreement with the Caledonian Railway Company to supply 25,000 tons of granite ballast from his quarry at Cove. This was specified to be of good quality machine broken to such a size as to pass a 2in circular meshed-screen and be retained by 5/8in mesh." Ref. 6
Thus granite or other rock types, broken to a specific size started to become the standard of all British railway ballast but there was to be no overnight conversion; gravel and sand or other materials were by no means replaced overnight. The writer of the newspaper article cited above went on to state: "As it is understood to be the intention of the GNSR Company to ultimately to treat their whole system in this fashion, it will be for a generation yet unborn to witness the completion of the change." Ref. 5 How right the writer was; it actually took about fifty years to complete the transformation of the former GNoSRCo. lines from using gravel and sand to the use of 'granite chippings' as ballast.
What was happening elsewhere on the British railway system? There is a description from the early twentieth century of 'the state of the art' of ballast composition by a railway engineer which shows the then current situation. In 1912 a Permanent Way engineer from the Great Western Railway gave an assessment of ballasting practices: "In the early days of railways almost anything had to do duty as ballast and strange to say, it is only of recent years that Companies have put money into procuring a good top ballast.
Personal experiences are always safe, and memory goes back to sand as ballast, a most mercurial and elusive material....In wet weather it is most spongy, the sleepers being depressed by every wheel, while in dry weather, it is blown in all directions.
Ashes too, at one time were much in demand, and although a better agent for draining than sand, and easy to pack, and owing to its elasticity gave a very silent travelling track, it has proved to be most damaging to wood, steel and iron....
Burnt clay is another ballast, long since relegated to a past age....With all clays unless thoroughly well burnt there is the fear that under atmospheric changes, there will be a reversion to the original condition.
A visit to some of the smelting tip-heads, gives a good idea of another class of ballast, in the refuse from puddling furnaces. This ballast under certain conditions may serve a useful purpose....
Detritus in which flint and gravel predominate, is an all round good ballast, makes a good bed, is easily opened and lends itself to packing in easy lifts, is in no way detrimental to the track, and when first laid is remarkably smart in appearance.
Rock ballast may now be said to figure among the most used but here the loose sandstone and slate shale should be avoided. " Ref. 7
So we see that not long before the outbreak of the Great War stone ballast was becoming widely used but had not yet taken over completely.
Paradoxically it was in the north east of Scotland and in the Highlands where there was an abundance of granite and other suitable rock types that the older material lasted longest as a ballasting material in Scotland.
The Inspectorate of Mines published a regular List of Quarries from 1896 and these contain the location of railway ballast pits. From these it can be seen that the railways had a small number of locations which were worked for gravel and sand. However it is not certain that all of these had sidings running into them but some certainly did.
In 1906 the GNoSR had pits at Cambus o'May, Crathes, Kintore and Parkhill.
The Highland Railway had pits at:
Achnasheen, Ardvannie, Strome Ferry and Rogart gravel and sand, Alltnabreac gravel and sand, Boat of Garten, Crannich, Moy and Tulloch are listed as gravel pits.
The North British Railway had a gravel pit at Auchendall while Spean Bridge and Fersit were gravel and sand pits.
During the Great War the 1916 list provides this information:
The GNoSR were operating pits at Cambus o'May, Coleburn, Cromdale and Kintore.
The Glasgow and South Western Railway operated a gravel and sand pit at Hollywood.
The Highland Railway had gravel and sand pits at Achnasheen, Alltnabreac, Boat of Garten, Bunchrew, Moy, Rogart, Ralia and Strome Ferry and gravel pits at Orbliston and Marrel.
After the Grouping of the railways the London and North Eastern Railway had pits at Cambus o'May, Coleburn, Cromdale and Lonmay in 1925 and at Crathes, Coleburn and Kintore in 1937 whilst the London Midland and Scottish Railway had pits at Achnasheen, Alltnabreac, Ardvannie, Bowmanhill, Boat of Garten, Buchrew, Dornoch, Fersit, Grandtully, Holywood, Orbliston, Moy, Ralia, Rogart, Strome Ferry in 1925 but only the following were listed for 1937: Bowmanhill, Grandtully, Orbliston and Rogart.
Some of these may have been long term sites which were periodically closed e.g. Crathes ballast siding had closed in 1914 but by 1937 another gravel pit was opened and continued in use as a source of ballast and later as a waste dump. Other pits only opened temporarily so the List of Quarries was only a guide to where gravel and sand were extracted over the short term. What is fairly certain from this evidence is that gravel and sand were in use on lines in the Highlands and in the North East of Scotland throughout the 1920s and 1930s. See online refs.
As late as the 1940s the railway companies were still using gravel and sand as track ballast on some of their lines. Wartime pamphlets from the Geological Survey of Great Britain Sands and gravels of Scotland, state: "Sand and gravel for roads and railways.- In the country districts sand and gravel are still used for the maintenance of second-class roads and by the railway companies for ballast." Online refs.
Soon after the Second World War war came Nationalisation; when the Railway Executive, precursor of British Railways, took over there were still seven gravel and sand pits in operation. However as operations became more centralised a uniform policy of ballast procurement heralded the end of gravel and sand use as track ballast after a hundred years of use. In its place came the 'granite chippings' or 'broken stone' type of track ballast. This has gradually been refined to a limited number of suppliers throughout Britain as the use of limestone has been phased out. This was due to its propensity for breaking down chemically and physically leaving a residue which blocked the free drainage of water. Basalt/whinstone was similarly abandoned as a less suitable material. The situation which prevails to this day is that igneous rocks either granite or felsite ('microgranite') are used see Plate 1 above.
APPENDIX
Extracts from:
The railways of Great Britain and Ireland practically described and illustrated. 1842
F. Wilshaw C.E., M. Inst. C.E.
ARBROATH AND FORFAR RAILWAY p. 3
"The ballasting is of broken stone 21 inches thickness...."
AYLESBURY RAILWAY p. 11
"...the ballasting consists of chalk mixed with flints; loam is also partially used for this purpose."
BALLOCHNEY RAILWAY p. 14
"The ballasting is of broken whinstone;....
BIRMINGHAM AND DERBY JUNCTION RAILWAY p. 16
"Small gravel is used to a considerable extent to ballast the way...."
BIRMINGHAM AND GLOUCESTER RAILWAY p. 25
"The ballasting is of the width of 28 feet, and 22 inches in thickness. There are no less than seven descriptions of ballasting; viz. burnt clay, burnt marl, gravel, sandstone, cinders, rock marl and broken stone." "broken stone (lias and oolite)...."
"The ballast wagons, about sixty in number, weigh each about two tons, and the cost is stated at from 63l. to 68l. each. The length of a ballast-wagon is 10 feet 3 inches, the width 7 feet 9 inches, and the height 1 foot 5 inches. Both sides and ends are hung with stout iron hinges to let down; and secured, where required, at corners with iron eyes and catches."
BOLTON AND LEIGH AND KENYON AND LEIGH RAILWAYS p. 40
"The ballast is of small coal, and is better adapted for this purpose than any other kind of material."
BRANDLING JUNCTION RAILWAY p.45
"the ballasting is chiefly of broken stone."
CHESTER AND BIRKENHEAD RAILWAY p. 54
"The ballasting is of broken red sandstone, occasionally mixed with some sand, its depth below sleepers being one foot...."
CHESTER AND CREWE RAILWAY p. 57
"The ballasting consists of sand and broken stone; under the sleepers the sand is 14 inches in thickness; and under blocks 7 inches; in each case there is a super-layer of broken stone, 4 inches in thickness."
THE CLARENCE RAILWAY p. 60
"The ballasting is of small coal."
DUBLIN AND KINGSTON RAILWAY p. 66
"The ballasting consists of broken limestone and gravel."
DURHAM AND SUNDERLAND RAILWAY p. 76
"The ballast is of small coals throughout."
DUNDEE AND ARBROATH RAILWAY p. 80
"The ballast is of gravel."
EASTERN COUNTIES RAILWAY p. 91
"The ballasting is of gravel throughout"
EDINBURGH AND DALKEITH RAILWAY p. 97
"The ballasting is of broken whin stone."
EDINBURGH AND GLASGOW RAILWAY p. 105
"The ballasting is 28 feet in width, about 22 inches in thickness, and of various descriptions."
EDINBURGH AND NEWHAVEN RAILWAY p. 108
"The ballasting is 22 inches thick, and consists of broken whinstone from the cuttings."
GARNKIRK AND GLASGOW p. 111
"Small-coal ballast is used throughout."
GLASGOW, KILMARNOCK, PAISLEY AND AYR RAILWAY P. 117
"The ballast consists partly of gravel, partly of broken stone and, partly of sand."
GLASGOW, PAISLEY AND GREENOCK RAILWAY p. 122
"The ballasting is chiefly of broken stone."
GRAND JUNCTION RAILWAY p. 127
"The ballasting consists chiefly of gravel and sand, the whole thickness being nearly two feet."
GREAT WESTERN RAILWAY p. 152
"The ballasting is chiefly of gravel, 18 inches in thickness."
LANCASTER AND PRESTON RAILWAY p. 171
"The ballasting consists either of broken stone or of gravel and sand, 12 inches in thickness; and on the highest embankments 14 inches in thickness."
LEEDS AND SELBY RAILWAY p. 177
"The ballasting is formed chiefly of broken stone."
LIVERPOOL AND MANCHESTER RAILWAY p. 191
"The ballasting consists of broken stone, small coal mixed with earth, and small coal alone; which last is indeed the best description that can be used, being compact, yet sufficiently porous to admit of the free percolation of the water."
LONDON AND BIRMINGHAM RAILWAY p. 223
"The ballast is chiefly of gravel, 2 feet in thickness; in some parts, however, the gravel is in a thinner layer, and is superposed with loamy sand. This plan is adopted very much on the Belgian railways, and appears to answer the purpose extremely well. Flint and chalk, and gravel and chalk, are also used in some parts of the line."
LONDON AND BLACKWALL RAILWAY p. 260
"The ballasting consists of Thames gravel, and also gravel dug from pits...."
LONDON AND BRIGHTON RAILWAY p. 274
"The ballasting, where the line is completed near the Croydon junction, is of large-sized gravel."
LONDON AND CROYDON RAILWAY p. 279
"The ballasting consists of broken stone, brick-rubbish, and gravel...."
LONDON AND GREENWICH RAILWAY p. 287
"The ballasting consists of gravel, two feet in thickness...."
LONDON AND SOUTH WESTERN RAILWAY p. 296
"The ballasting is chiefly of gravel."
MANCHESTER AND BIRMINGHAM RAILWAY p. 305
"The ballasting is of sand, which is laid one foot below the bed-line of blocks."
MANCHESTER AND LEEDS RAILWAY p. 319
"The ballasting is chiefly of broken stone. Burnt stone is also used in some parts of the permanent way."
MIDLAND COUNTIES RAILWAY p. 330
"The ballasting is chiefly of gravel, two-thirds of the whole line being thus laid, and the remainder with sand and sandstone pulverised."
NEWCASTLE AND CARLISLE RAILWAY p. 340
"Small coal, cinders, and also loam are used to a considerable extent for ballasting the way."
NEWCASTLE AND NORTH SHIELDS RAILWAY p. 356
"The ballasting consists of broken stone, cinders, small coals, and brick-rubbish."
NORTHERN AND EASTERN RAILWAY p. 362
"The slight embankment from the Epping road to Broxbourne is chiefly formed from side-dykes, from which a great deal of gravel has been obtained for ballasting the way."
NORTH MIDLAND RAILWAY P. 373
"The ballasting consists either of broken stone, cinders or burnt stone, according to the situation of the work, and is 2 feet in thickness where blocks are used , but only 18 inches where where the rails are laid on sleepers."
NORTH UNION RAILWAY p. 384
"The ballasting consists of sand, with an upper layer of broken stone 4 inches in thickness."
SHEFFIELD AND ROTHERHAM RAILWAY p. 397
"The ballasting is chiefly of broken stone, and partly of small coal for the upper layer."
SLAMANNAN RAILWAY p. 404
"The ballasting consists of broken freestone, 10 inches below the blocks or sleepers, and filled up to the level of the top-surface of the blocks or sleepers, the upper layer being whinstone 6 inches thick, with gravel or quarry-rubbish."
STOCKTON AND DARLINGTON RAILWAY p. 416
"The ballast is chiefly of small coal."
ULSTER RAILWAY p. 434
"The ballasting consists of gravel and broken stone,for a depth altogether of 16 inches; the gravel being 12 inches in thickness."
YORK AND NORTH MIDLAND RAILWAY p. 441
"The ballasting is of sand or broken stone, 28 inches in thickness."
REFERENCES
1. M.J.T. Lewis
Early wooden railways
Routledge and Keegan Paul 1970
pp. 163-164.
2. NRS BR/NBR/1/177 and BR/NBR/1/178 Border Union Railway: Engineer's Reports
3. Geology of the Aboyne District: memoir for the 1:50000 geological sheet 66W (Scotland) British Geological Survey 2001
4. NRS BR/DEE/1/3 Minute Book of the Deeside Railway Company
5. The Aberdeen Journal 4th July 1866
6. The Aberdeen Weekly Journal 1st April 1896
7. Jim Fiddes
The Granite Men: A History of the Granite Industry of Aberdeen and North East of Scotland
History Press 2019 p.40
8. W. Randell
Track beds and ballast
Journal and Proceedings of The Permanent Way Institution, 1913, 31, No. 1, 82–87
ONLINE REFERENCES:
List of Quarries Mines Inspectorate
List of Quarries 1906
List of Quarries 1916
List of Quarries 1925
List of Quarries 1937
List of Quarries 1948
Sands and gravels of Scotland Wartime pamphlets
Elgin-Banff-Aberdeen 1943
Stonehaven - Perth - Dundee. 1945
Glasgow and west Central Scotland 1946
ACKNOWLEDGEMENTS
All map extracts are reproduced by permission of the National Library of Scotland.
https://maps.nls.uk/copyright.html
With thanks to Sara Green, Membership Secretary, The Permanent Way Institution for supplying a copy of the paper from their journal.
Thanks also to Jim Fiddes for information about the early use of granite as track ballast in Aberdeenshire and Kincardineshire.
NOTES
1. Small coals were defined by Statute (56 George III c. 127 1816) as coal that "passed through a screen, the bars of which are not more than three-eights of an inch asunder". The pieces were large enough to provide a granular material to allow rainwater to drain away; coal dust and dross would not have been suitable.
2. A side-cutting was an excavation of the ground beside the route of a railway where extra material was wrought to create an embankment when insufficient material could economically be brought from a cutting excavation. See map below:
Extract of OS map showing 'Old Quarry' (side cutting) adjacent to Beattock Bank rockfill embankment on the Caledonian Railway mainline between Greskine and Harthope. The material from this quarry would probably also have been used as track ballast.
I have been interested in the origins of railway ballast since I worked in the rail industry several years ago producing draft specifications and recommendations for track renewals. I have also designed and implemented field work investigating the state of ballast in-situ along several sections of the West Coast Main Line between Wembley and Law Junction on the WCRM project; around Whitehall Junction and Leeds Station on the Leeds remodelling project; several sites on the East Coast Main Line in East Lothian and a number of other sites in central Scotland.
This article will be updated as more information becomes available.