Edinburgh Trams

Nineteen-year-old Lisa-Mariefrom London is defying gender biases. As a civil engineering apprentice helping to build Britain's new railway, shes flying the flag for women and girls working in the construction sector to mark International Women's Day (8th March 2021).
(
Permalink
)
Apprentice
HS2
International Women's Day
HS2

The railway throughLlangennechhas reopened for the first time in six months, following one of the biggest environmental recovery efforts Network Rail has ever been involved with.
(
Permalink
)
Derailment
Llangennech
An Irishmans Diary. Railways being laid down in the early to mid-19th century Ireland were places of feverish activity. Hundreds of men with picks, shovels and wheelbarrows were toiling to prepare wide paths across the countryside in many counties.
(
Permalink
)
Navvies
William Dargan
The Irish Times

Islanders have blasted the 'absolutely unacceptable' cost of lorries delivering vital supplies having to pay nearly five times more than a holidaymaker in a similar sized vehicle to take a ferry.
(
Permalink
)
Caledonian MacBrayne
Ticketing
The Herald

A collection of negatives that provide a window into the turbulent past of Englands first public narrow-gauge railway, the Ravenglass and Eskdale Railway (RER), has recently been acquired by Ravenglass Railway Museum.
(
Permalink
)
Ravenglass and Eskdale Railway
News and Star

CalMac ferry MV Ali Cat called at Kilcreggan today for crew familiarisation and berthing trials. it is understood that the [...]
(
Permalink
)
Kilcreggan Pier
The Lochside Press

A union has attacked catering company Rail Gourmet for instructing staff to tell lies to ensure they got Covid tests.
(
Permalink
)
COVID-19
LNER
Strathspey Herald

Daily Record

The threatened loss of a tiny Highland ferry has been averted after funding cuts were replaced with extra cash, The Scotsman has learned.
(
Permalink
)
Cromarty
Nigg
The dispute between two museums nine miles is resolved with an agreement to share the locomotive.
(
Permalink
)
Locomotion No 1
BBC News

A trainbuilder says it has created scores of jobs and laid a platform to be more globally competitive after carrying out a multi-million-pound investment at its County Durham plant.
(
Permalink
)
Hitachi Rail
North East Times

[Note: This article refers to the former private Granton Gasworks station, not the original Granton station at the pier.] A leading construction firm has been handed the job of restoring the old Granton Station and breathing new life into the area.
(
Permalink
)
Granton Gasworks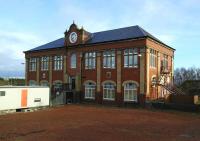 Granton Gasworks [Station]: Morning winter sunshine catches this fine Edwardian building on 17 January 2015. Try and imagine hordes of men with bunnets (flat caps) and moustaches pouring out of workmen's trains towards the huge ...
David Panton 17/01/2015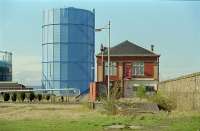 Granton Gasworks [Station]: Granton Gasworks station from the south in 1999. Three gasholders still stood at that time, the easternmost of which dominates the view.
Ewan Crawford //1999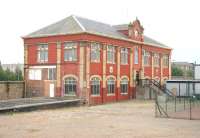 Granton Gasworks [Station]: The former station at Granton Gasworks, photographed on 16 August 2006. Built by the Edinburgh & Leith Gas Commissioners in 1902 for the use of headquarters staff and still displaying the appropriate ...
John Furnevel 16/08/2006
Edinburgh News

Glasgow City Council has approved plans to create a pedestrian arch path linking the Laurieston and Gorbals communities.
The designs will see a railway arch opened up between Laurieston Road and Cleland Lane as part of a phased project aimed at improving pedestrian connections and public realm in the area, including turning adjacent greenspace into a park and reducing the width of four-lane Laurieston Road.
(
Permalink
)
Gorbals
Scottish Housing News

The UK government is to provide up to £30m of match funding for the project to develop a rolling stock and infrastructure testing complex in South Wales, Chancellor of the Exchequer Rishi Sunak announced in the budget on March 3.
(
Permalink
)
Installation work on a new £2m linkspan at Gourock Ferry Terminal has been completed - more than two months behind schedule.
(
Permalink
)
Gourock Pier
The last of ScotRails upgraded Inter7City high speed trains has arrived in Scotland.
The trains connect Scotland's seven cities, offering enhanced services for commuters, business travellers and tourists.
The trains have brought increased seat and luggage capacity, power sockets in the seating areas and upgraded on-board catering, which ScotRail will be re-introducing when COVID-19 restrictions allow.
(
Permalink
)
Inter7City
ScotRail
Journeys on Stourbridges unique 'people mover' will soon be much smoother for passengers after a week-long upgrade of its railway line.
(
Permalink
)
Stourbridge
Scotland-London operator London North Eastern Railway (LNER) today vowed to significantly increase its female train drivers by more than doubling applications from women within four years.
(
Permalink
)
LNER
On March 8, 2021, women all around the world are celebrated for their achievements on International Women's Day.
We've got a lot of brilliant women working across all areas of ScotRail. From frontline staff working on our trains and in our stations, to those in CCTV keeping everyone safe, to women driving our trains keeping key workers moving, to those keeping the trains running smoothly and every other woman in between.
This year we're shining the spotlight on Syeda Ghufran, our Director of Engineering. When she started at ScotRail she was the only female engineer in a team of 200. Thankfully a lot has changed since then!
(
Permalink
)
International Women's Day
Feline was a whisker away from a 125mph ride when it was spotted at Euston station on Tuesday evening. You hear about delays from leaves on the line, maybe even the occasional swan, but on Tuesday evening a cat was discovered on a train roof at London Euston station " a whisker away from hitching a 125mph ride up north. The tabby was spotted curled up on top of an Avanti West Coast train about half an hour before it was due to depart for Manchester at 9pm and refused to move.
(
Permalink
)
Cat
Delay
London Euston
Organisations from across the rail industry have responded to the budget presented by Chancellor the Exchequer Rishi Sunak on March 3, with funding for investment welcomed but criticism of missed opportunities for the sector.
(
Permalink
)
2021 Budget
A Black Isle development trust has lobbied Highland councillors ahead of tomorrow's budget meeting and residents are being urged to do likewise.
(
Permalink
)
Cromarty
Nigg
Ross-shire Journal

The price of a monthly ScotRail ticket has caused an uproar after the travel operator revealed it was cracking down on fare dodgers.
(
Permalink
)
Ticketing
Edinburgh Live

Press and Journal

Metro drivers are getting to step on-board a full-size replica of their new trains that are due to start arriving next year.A detailed mock-up of the new Metro cab, which is fully fitted out, has been built to assist with workforce familiarisation " a key part of the design process for the new £362m Metro fleet.
(
Permalink
)
Tyne and Wear Metro
Tyne and Wear Metro

Organisations across the North East are coming together to showcase walking & cycling projects that are improving how we travel around the area. Nestrans, along with Aberdeen and Aberdeenshire Councils, and NHS Grampian, will be presenting to elected members, local authority officers, and representatives from key partners. The event, Moving Towards Net Zero, will detail the ongoing and upcoming active and sustainable travel projects that aim to make the area cleaner, greener, healthier, and safer. Topics include the new Regional Transport Strategy, Active Travel Action Plans, the Integrated Towns project, ...
(
Permalink
)
Aberdeen
Aberdeenshire
Green
Nestrans

The Langholm & District Rail Group say claims the town has lost thousands of jobs in the last 20 years and would benefit if a station was opened there.
(
Permalink
)
Borders Railway
Langholm
Waverley Route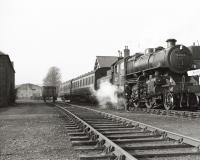 Langholm: Oiling of class 4MT 43139 at Langholm station in 1961.
David Murray-Smith 16/03/1961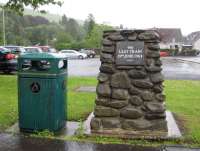 Langholm: The cairn erected in Langholm marking the site of the former station and recording the departure of the last train. The cairn continues to be a focal point in the annual Langholm Common Riding celebra ...
Bruce McCartney /07/2009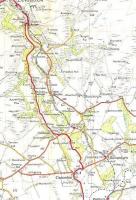 Langholm: The Langholm branch from the OS One Inch map of 1955. Riddings Junction was on the English side of the border, but only just. My 1885 Ordnance Gazetteer of Scotland lists Gilnockie only as a station, ...
David Panton //1955
ITV News

ScotRail have confiscated 10,000 tickets and handed out £17,000 in fines to lockdown fare-dodgers in the past few months. The rail firm is cracking down on customers taking advantage of reduced staff numbers during the pandemic to avoid paying the full price of their journey.
(
Permalink
)
COVID-19
ScotRail
Ticketing
The Scottish Sun

Rail fares in England and Wales will increase by 2.6% on Monday, the first time the government has chosen to put up prices above RPI inflation since 2013, in a move that has been criticised for further pricing middle income earners out of rail travel and undermining the governments green credentials. The price rise comes despite calls for freezes or even discounts to help attract passengers back to the railways.
(
Permalink
)
Ticketing
Largs and Millport Weekly News