Parking restrictions are set to be imposed while repair work is carried out on a railway line in Aberdeen. The measures will be in place on a number of dates in early 2020 while Network Rail carries out work.
More
Introduction of IETs, Azumas and Mk 5s helps to reduce age of UK's train fleets. Overall, according to the latest figures from the Office of Rail and Road (ORR), the average age of the national train fleet in 2018-19 was 19.2 years, a decrease of 0.4 years compared with 2017-18.
More
RAIL
Commuters are still facing delays after a fault was discovered on the tracks between Arrochar and Tarbet and Ardlui.
More
'Fast' trains between Glasgow and Edinburgh to get slower despite £858m upgrade [Evening Times]
Trains on one of Scotland's busiest railway lines are getting slower again just 12 months since a multi-million pound upgrade to increase their speed.
More
Train passengers travelling between Aberdeen and Glasgow have been warned to expect longer journey times on Sunday.
More
Aberdeen railway heritage project gets first-class award | Press and Journal [Press and Journal]
A community-led project to restore an Edwardian railway turntable has received a first-class accolade in this year's Aberdeen Civic Society (ACS) awards.
More
Jingye Group, the Chinese steelmaker, has agreed in principle to buy British Steel out of liquidation for £70m. The deal could get through within a few days. Jingye has also sweetened its buyout offer with the promise it can access up to £300m in loans, indemnities and grants as it plans to boost the production by 10%. News of the deal came after talks between British Steel and Ataer, an investment arm of Turkeys military pension fund stalled. Ataer fell to third place in the bidding behind steel baron Sanjeev Gupta, who owns the UK-based Liberty House group.
More
Railway Technology
Rail upgrades are needed to stay on track in tackling climate emergency David Spaven [The Scotsman]
Since First Minister Nicola Sturgeon declared a 'climate emergency' in April, the political agenda has been moving inexorably - albeit too slowly - towards a radical transformation of Scottish transport investment priorities. Last month, a collaboration of seven sustainable transport campaigns came together to make the case for a fundamental reprioritisation, 'starting with an end to creating new trunk road capacity'.
More
The Scotsman
Shocking photographs show horrific damage to Azuma LNER train following Leeds Station depot crash [Yorkshire Post]
hese are the shocking photographs of damage to an Azuma train after a crash on the tracks outside Leeds Station depot last night. The photographs show the crumpled front of the train after what LNER described as a 'low-speed' collision.
More
Yorkshire Post
The Evening Times have mapped out every railway station in Glasgow according to their accessibility status.
More
Local people say the giant art work gives a new lease of life to the rundown Edinburgh tunnel.
More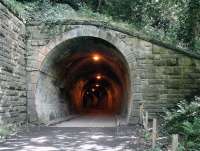 Colinton Tunnel: The south western portal of Colinton Tunnel on the Balerno branch. Photographed on 27 July 2017 from the site of Colinton station. The tunnel, which is on a contnuous south west to north curve throughout its 153 yard length, now forms part of the Water of Leith walkway. For a view of the north portal [see image 60150].
John Furnevel 27/07/2017
Flooding is set to bring misery to rail passengers after it sparked the closure of the Highland mainline south of Inverness.
More
A £10m boost to help maximise economic regeneration in Fife as part of the re-opening of the Levenmouth Rail Link has been given the green light.
More
The Courier
Disruption for ferry passengers with 25 of 28 services hit with issues [Press and Journal]
Caledonian MacBrayne was four ships short today - including its newest vessel that was just back from a refit - causing cancellations and disruption in parts of the Western Isles.
More
A historic city centre bus station is being pulled down.
More
Evening Telegraph
Train station chiefs 'forced to beg for toilet roll and bin bags amid ScotRail cutbacks' [Scotsman]
Train station chiefs are being forced to 'beg' for toilet roll and bin bags amid ScotRail cutbacks, it has been claimed.
More
UK: The next phase of Network Rails devolution strategy came into force on November 11, when responsibility for capital projects was transferred from the former centralised Infrastructure Projects business to the five geographical regions that were established in June to provide support for the 14 routes responsible for day-to day.
More
Passenger access to Glasgow Queen Street station is expected to change from Monday November 11.
More
Lord Mawhinney was the former chairman of both the Conservative Party and the Football League. Railscot note: Twenty-five years ago on 24 November 1994 Dr Brian Mawhinney as Secretary of State for Transport announced that the Government would dispose of its entire interest in the flotation of Railtrack, surely the defining moment of rail privatisation.
More
A double-decker bus has hit a railway bridge in Inverness. The Stagecoach bus hit the bridge in Harbour Road at around 7pm " completely destroying the top deck.
More
101-year-old World War II veteran's emotional send-off on Remembrance railway journey to London [Network Rail]
A 101-year-old World War II veteran was given a rousing surprise send-off today as he boarded a train from Preston to London to mark the Armistice.
More
Highlands and Islands MSP condems Scotrail for 'dragging their feet' in resolving customer complaints over ticket machine [Press and Journal]
A Highland and Islands MSP has condemned Scotrail for 'dragging its feet' after taking three months to repair an overcharging ticket machine in Nairn.
More
Smartcards can now be used across all modes of transport in Scotland, but how big a change is it?
More
The UK's competition regulator says franchise winner FirstGroup is the sole operator on several routes.
More
The rail industry came together yesterday (6 November) to commemorate the thousands of railway workers who lost their lives during World War 1.
More
Obituary: Rev Donald Macdonald, Free Presbyterian minister, central in protest against ferry sailings on the Sabbath [Scotsman]
The Reverend Donald Macdonald, Free Presbyterian minister of Staffin, Isle of Skye. Born 23 February 1952; died 31 October 2019.
More
India: Yamraj, lord of death, has been deployed to discourage people from trespassing on Western Railways heavily used suburban lines in Mumbai.
More
The campaign group Friends of the Far North Line has hailed a report that recommends improvement to the rail service between Caithness and Inverness.
More
John O Groat Journal