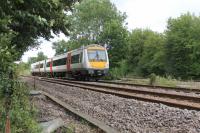 Saxmundham Junction: A Lowestoft to Ipswich service, formed by 170272, approaches Saxmundham on 30th July 2019. The DMU is at Saxmundham Junction, where the Aldeburgh branch trails in. The presently disused tracks to the Sizewell loading point can be seen to the right of the train.
Halesworth to Woodbridge Extension (East Suffolk Railway)
Mark Bartlett [30/07/2019]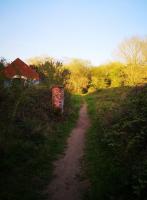 Monmouth Troy: Just off the Eastern end of the platforms at Monmouth Troy, the railway split to head for Ross-on-Wye (left) or Chepstow (right). The PW hut is original, the brick gatepost more modern. The viaduct on the Chepstow line is deteriorating rapidly, and should be visited sooner rather than later - so long as the steel gates at the station end are open!
Coleford, Monmouth, Usk and Pontypool Railway
Ken Strachan [20/04/2019]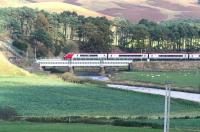 Crawford Viaduct: The morning sun illuminates Crawford Viaduct on 19 October 2007 as a Virgin CrossCountry service from Birmingham New Street to Glasgow Central crosses the River Clyde.
Caledonian Railway
John Furnevel [19/10/2007]