9 Images released on Monday 22/02/2021

Contact the news and picture editor.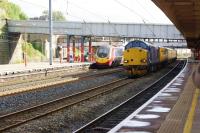 Lancaster: With a southbound Pendolino in platform 4 a Network Rail test train passes Lancaster on the Down Main heading to Carlisle on the afternoon of 27 September 2016. 37608 was leading and 37611 on the rear both sporting the Europhoenix logo.
Lancaster and Carlisle Railway
John McIntyre [27/09/2016]