Passengers booked onto the Caledonian Sleeper will be issued a refund as 11 days of strike action gets under way.
(
Permalink
)
Caledonian Sleeper
Refund
Serco
Strike
Strikes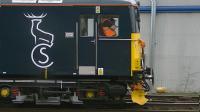 Kilmarnock: 73969 showing off the Caledonian Sleeper logo during shunting moves at Kilmarnock
Ken Browne 18/03/2016
Evening Express

Evening Telegraph

Rail service operator Serco is to cancel all the sleeper services during an 11-day strike by rail workers this month.
(
Permalink
)
Caledonan Sleeper
Serco
Strike
Strikes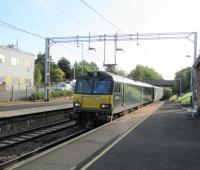 Uddingston: Caledonian Sleeper stock from Edinburgh heads through Uddingston on its way to Polmadie on 19 September 2020.
David Panton 19/09/2020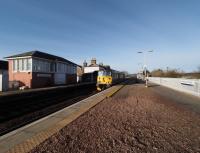 Stonehaven: Caledonian Sleeper 73971 provided a rare sight at Stonehaven on 3rd May 2021, but it didn't stop and I wasn't fully prepared for that.
Duncan Ross 03/05/2021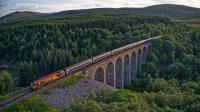 Slochd Viaduct: 67020, still in EWS livery, hauls the Caledonian Sleeper southwards over Slochd Viaduct in the late evening sun pf 7th July 2019.
John Gray 07/07/2019
Workers fighting for pay equality on Abellio Scotrail are to launch a fresh wave of strike action that threatens to disrupt travel to major events in Scotland.
Euro football fixtures at Hampden Park, the Edinburgh Festival and even the COP26 climate summit in Glasgow in November could face disruption unless Scottish ministers and Abellio bosses face up to their responsibilities, the RMT union said today.
(
Permalink
)
COP26
Edinburgh Festival
RMT
ScotRail
Strike
Strikes
UEFA Euro 2020
Morning Star

ScotRail workers in Perth are to be called out on four days of strikes which threaten to cause further disruption to the strife-torn operator.
(
Permalink
)
Perth
RMT
Strike
Strikes
Passengers face six more Sundays of major ScotRail disruption after walkouts over pay were today extended to mid-July as the union warned of a 'long summer of strike action'.
(
Permalink
)
RMT
ScotRail
Strike
Strikes
ScotRail traincare workers are to strike on Monday over the 'mockery' promotion of a manager said to have been found guilty of breaching the company's dignity and respect policy.
(
Permalink
)
ScotRail
Strike
Scotrail has once again warned customers that the bulk of rail services will be cancelled due to industrial action.
(
Permalink
)
ScotRail
Strike
Weeks of strike action on Highland railway lines show no sign of easing after ScotRail confirmed that Sunday services will be hit for five more weeks.
(
Permalink
)
ScotRail
Strike
A host of Scotrail services have been cancelled or are running at a reduced service as a result of strike action.
(
Permalink
)
ScotRail
Strike
Daily Record

Just one in 11 ScotRail trains will run for the next six Sundays after the main rail union widened its dispute over payments for working on days off.
(
Permalink
)
ScotRail
Strike
ScotRail is facing yet another strike after workers in Perth voted for action in a dispute over a manager.
(
Permalink
)
Perth
ScotRail
Strike
Strike action is supported by workers as the union Unite accuses Albellio ScotRail of failing to make a meaningful pay offer.
(
Permalink
)
ScotRail
Strike
Industrial action is edging closer after workers were rattled by a collapse in pay talks with rail bosses.
(
Permalink
)
ScotRail
Strike
Scotland's railways face another day of disruption as ScotRail faces a third day of strike action this weekend in a bitter dispute over overtime payments.
(
Permalink
)
Conductors
ScotRail
Strike
Greenock Telegraph

Rail staff are furious at a 'despicable' social media campaign by ScotRail over a conductors' strike which is to cause further disruption.
(
Permalink
)
Conductors
ScotRail
Strike
Herald Scotland

Rail passengers in the Highlands face further disruption this Easter weekend, after the RMT confirmed it will push ahead with its latest strike.
(
Permalink
)
RMT
ScotRail
Strike
Scotland's main train operator today faced further potential disruption with its four main unions jointly announcing they were considering industrial action votes over pay.
(
Permalink
)
Aslef
RMT
ScotRail
Strike
TSSA
Unite
Rail Technology Magazine

Key train services in Scotland will be cancelled every Sunday over a six week period as conductors strike over calls for overtime payment increases.
(
Permalink
)
ScotRail
Strike
ScotRail faces potential disruption to its services after conductors have been being called on to strike on six Sundays in a row, starting on March 28.
(
Permalink
)
Conductors
ScotRail
Strike
Conductors on Scotland's main train operator are to be balloted for industrial action over being paid less than drivers for working on days off.
(
Permalink
)
ScotRail
Strike
Edinburgh News

A series of six stoppages in support of a disciplined train conductor have been scrapped by the Rail Maritime and Transport (RMT) union after he was reinstated.
(
Permalink
)
Glasgow Central
Strike
The Scotsman

Scotrail workers at Glasgow Central station are to go on strike over alleged 'disciplinary abuses' from bosses.
(
Permalink
)
Glasgow Central
Strike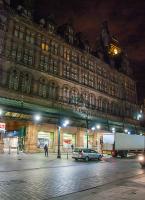 Glasgow Central: The Gordon Street frontage of Glasgow Central on the evening of the 21st of November. Above the entrance is the Caledonian's hotel, now the Grand Central Hotel.
Ewan Crawford 21/11/2016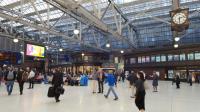 Glasgow Central: The large, open, bright and airy space of the Glasgow Central concourse.
Beth Crawford 23/05/2018
Ferry crews are to vote on possible strike action following the collapse of wage negotiations at west coast ferry operator Caledonian MacBrayne.
(
Permalink
)
Caledonian MacBrayne
Strike
Tonight marks the first of two periods of planned strike action from Caledonian Sleeper staff, leading to services being cancelled.
(
Permalink
)
Caledonian Sleeper
Strike
Passengers using overnight trains between Scotland and London face four days of disruption after the Rail Maritime and Transport union (RMT) announced two walkouts over rest areas on trains for staff.
(
Permalink
)
Caledonian Sleeper
Strike
Workers on Southern, Merseyrail and Arriva Trains North are to hold fresh strikes on 8 April, the day of the Grand National, the RMT union has said.
The 24-hour industrial action is part of an ongoing dispute over staffing and the role of conductors.
A strike planned for 4 April on Southern routes was moved to 8 April after the company offered fresh talks.
Merseyrail said coinciding a strike with the race meeting would damage Liverpool city region's reputation.
(
Permalink
)
Arriva Trains North
Merseyrail
Southern
Strike
Train conductors on London Midland's service have announced they will take a vote over strike action.
The rail union RMT said it was balloting its 523 members over the proposed imposition of security contractors on trains.
The union says the company's move was made without agreement. The ballot closes on 2 February.
London Midland said it was 'very disappointed' the RMT was threatening action.
RMT general secretary Mick Cash said: 'The imposition of external contractors who have no additional skills or powers of authority to remove unruly passengers or fare dodgers is something we are totally opposed to.'
London Midland said the proposed changes were in reaction to feedback from front-line staff and passengers.
A spokesman for the train operator said: 'The security contractors are in addition to the senior conductors and have different duties.
'This is about safety as we have told the RMT many times, we have no intention of removing conductors from our trains'.
The RMT said it had been 'left with no option but to ballot' after London Midland management had failed to respond to its questions and proposals.
(
Permalink
)
Southern Railway
Strike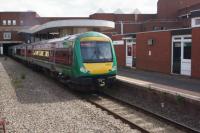 Walsall: A London Midland service from Rugeley to Birmingham New Street calls at Walsall on 21 June 2016.
John McIntyre 21/06/2016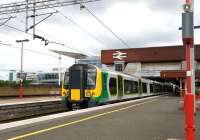 Birmingham International: London Midland EMU 350245 arriving at Birmingham International on 17 May.
Peter Todd 17/05/2011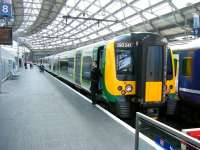 Liverpool Lime Street: Scene on platform 8 at Liverpool Lime Street station on 21 June 2013. London Midland 350241 is preparing to depart with a service to Birmingham New Street.
Veronica Clibbery 21/06/2013
A strike by conductors on the Southern rail network will still go ahead next week after the RMT was barred from ongoing talks, the union has said.
On Tuesday, the train drivers' union Aslef suspended three days of strikes next week for the talks to take place.
The RMT was due to strike next Monday and has said this will still go ahead.
RMT chief Mick Cash said the union wanted access to the same talks as Aslef. Southern said it was happy to have formal talks with the RMT.
'RMT demands again today that this union be given access to exactly the same talks process in our Southern rail disputes as has been brokered for our sister union by the TUC,' Mr Cash said.
(
Permalink
)
Southern Railway
Strike
Southern rail is to restore a 'full train service' from Tuesday after a union suspended industrial action, the rail firm has said.
The train drivers' union Aslef had been due to strike for three days next week but has called off the walkouts.
Southern said rosters had already been issued and it could not run a full timetable until 24 January.
The announcement was made ahead of fresh negotiations taking place on Wednesday between Aslef and Southern.
Aslef's strike days had been planned for 24, 25 and 27 January but the union suspended the action if the company agreed to 'engage in intensive talks'.
(
Permalink
)
Southern Railway
Strike