Network Rail is seeking private sector investment in its trackside fibre optic cable network in a deal that would enable performance, safety and connectivity benefits for passengers, and save the taxpayer up to £1 billion in costs.
As part of Network Rails initiative to create a safer, more modern and digitally-connected rail network, this ambitious plan aims to secure the funding ...
(
Permalink
)
Network Rail
Telecoms
Metro

RMT threatens strike action over plans to change working practices to cut costs after Covid pandemic. Thousands of rail jobs could be axed by Network Rail under a shake-up of working practices to cut costs after the Covid pandemic, according to the industrys biggest trade union.The Rail, Maritime and Transport workers' union (RMT) said it had 'no alternative to move to a national dispute footing' to protect its members' livelihoods and safety.
(
Permalink
)
Network Rail
RMT
The heaviest freight train ever to run on the West Coast main line has made its debut journey from the Peak District to London with essential construction materials.
(
Permalink
)
Network Rail
Peak Forest
Press and Journal

Scotland's Railway will be withdrawing services on some routes on Tuesday while high winds and extreme rainfall sweeps across the country.
(
Permalink
)
Network Rail
ScotRail
Weather
LNER

Scientists are using cutting-edge technology along Britains 20,000-mile rail network, as part of Network Rails new action plan for sustainable vegetation management.
(
Permalink
)
Network Rail
Passengers and freight customers will benefit from more reliable services after the successful delivery of £16m of enhancements on Scotlands Railway.
(
Permalink
)
Network Rail
Major progress was made at Kings Cross during a six-day closure over Christmas, including work to reconstruct Camden Sewer which runs beneath the tracks
Teams lifted all four tracks entering the station for the first time in over 40 years
The East Coast Upgrade will bring a more modern, reliable railway for passengers, improving journeys between London, the North of England and Scotland
Network Rail and train operators on the East Coast Main Line are thanking passengers for their patience following the six-day closure at Kings Cross.
(
Permalink
)
Kings Cross
Network Rail
The G-NLDR vehicle was sent out by Network Rail to ensure the train lines in and around the Scottish capital were free of ice and snow.
(
Permalink
)
Helicopter
Network Rail
Edinburgh Live

Evening Times

Passengers in Scotland's biggest city are set to benefit from improved journeys in 2021 as Network Rail delivers projects to upgrade and renew infrastructure around Glasgow this festive period.
(
Permalink
)
Christmas Works
Network Rail
The Office of Rail and Road (ORR) has praised Network Rails response to Covid-19 but raised concerns over how Network Rail plans rail timetables for next year and in the longer term, and is requiring improvement by Network Rail on how rail capacity is allocated and access to the network is granted.
(
Permalink
)
COVID-19
Network Rail
Office of Rail and Road
ORR

As the rail industry works together to help people travel with confidence this Christmas, passengers are asked to plan in advance and book their outward and return journeys. 95% of the network is running as usual over the Christmas and New Year period, with essential engineering work taking place at key locations
Upgrade work will improve train reliability for passengers on several routes and boost connectivity between England and Scotland on the East Coast Main Line.
(
Permalink
)
Christmas
Network Rail
Rays of purple light will beam from railway stations across the country on Thursday (3 December) as the rail industry joins the global #PurpleLightUp movement and celebrates the contribution of disabled people around the world.
(
Permalink
)
Network Rail
A Christmas travel tsar has been appointed in an effort to avoid transport chaos during the festive period. Sir Peter Hendy, the chairman of Network Rail, will scrutinise whether train, air and road networks are ready for millions of people making trips over the five-day window when coronavirus restrictions are eased, the Department for Transport said.
(
Permalink
)
COVID-19
Christmas
Network Rail
Peter Hendy
Network Rail and RIBA Competitions have revealed the names of the five design practices selected to compete in the next phase of their competition to shape the future of Britains railway stations.
(
Permalink
)
Network Rail
Station design
Progress Rail, a Scottish head-quartered engineering firm, is in danger of closure. This is according to the Transport and Salaried Staff Association (TSSA) trades union. They say that Network Rail has decided to buy what they call safety-critical rail crossings made abroad, instead of those made at the Scottish plant. [See also news item 08/10.]
(
Permalink
)
Network Rail
Progress Rail Services
RailFreight.com

Network Rail has announced a major step forward in tackling climate change by becoming the first railway company in the world to set the most ambitious Science-Based Targets to limit global warming.
(
Permalink
)
Climate Change
Network Rail
Scrap yards across the West Midlands and Warwickshire are being visited by Network Rail and the British Transport Police to ensure dealers are not trading stolen metal.
(
Permalink
)
Metal theft
Network Rail
Twenty years ago, on 17 October 2000, a train derailed just south of Hatfield station while travelling at around 115mph. Four people died, 70 were injured. The accident was caused by rolling-contact fatigue (metal fatigue) of the left-hand rail, which broke as the train passed over it.
Railtrack (the private infrastructure operator) and Balfour Beatty (the contractor responsible for track maintenance on that line) were found guilty of breaching health and safety laws. Railtrack was forced by the government into administration, and publicly owned Network Rail was established.
(
Permalink
)
Balfour Beatty
Hatfield crash
Network Rail
Railtrack
Rail Engineer

Almost 1,500 lifts and 300 escalators across some 500 stations around the country will soon be directly 'live' reporting their working condition. Passengers will be able to see which lifts and escalators are working, helping them plan their journeys through stations with real-time knowledge of the access available.
(
Permalink
)
Network Rail
Open data
Rail Wellbeing Live on 4th/5th November set to be industry's biggest ever free wellbeing event
Aims to'revolutionise' thinking around health and wellbeing in rail industry
More than 140 speakers and 80 pick 'n' mix sessions across 2 day virtual event.
(
Permalink
)
Network Rail
Virtual Event
Wellbeing
Network Rail has provided a huge boost to the Great British September Clean - by once again pledging to get all 41,000 employees involved. It says litter and graffiti can cause safety problems for passengers.
(
Permalink
)
Network Rail
Daily Mail

The National Composites Centre (NCC) has partnered with Network Rail to investigate, design and build a composite footbridge.
The new partnership sees Network Rail join the NCC as a Tier One Member - the first rail infrastructure company to do so - which gives Network Rail access to use the world-leading expertise facilities and capabilities at the NCC.
The concept footbridge, conceived and ...
(
Permalink
)
Footbridge
National Composites Centre
Network Rail
Ross-shire Journal

Network Rail, Scottish Government and City of Edinburgh Council have today revealed their concept designs for transforming the capitals main station as part of the Edinburgh Waverley Masterplan.
(
Permalink
)
City of Edinburgh Council
Edinburgh Waverley
Network Rail
Scottish Government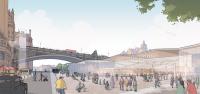 Edinburgh Waverley: Master-plan for Edinburgh Waverley, Market Street side entrance (the Klondyke or Old Town side to the south of the station). North Bridge in background.
Network Rail /08/2020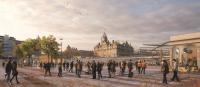 Edinburgh Waverley: Network Rail's master-plan for Edinburgh Waverley showing the entrance from Waverley Bridge.
Network Rail /08/2020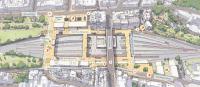 Edinburgh Waverley: The Edinburgh Waverley master-plan showing the mezzanine level and without the glass roof. This aerial view is from the south.
Network Rail /08/2020
Network Rail has announced that tree cutting work on the line between Glasgow and East Kilbride / Barrhead, paused due to the COVID-19 pandemic, will now resume.
(
Permalink
)
Barrhead
Covid-19
East Kilbride
Electrification
Network Rail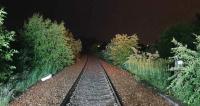 East Kilbride: Clearing the trees and vegetation along the 11-mile railway corridor is now underway and will be ongoing until December. It will enable site and geological investigation (SI/GI) which will inform the ...
Network Rail //2020
Household waste is helping to keep the lights on for 50,000 homes during the coronavirus crisis as Network Rail continues to move an essential freight service which carries waste from London to an energy plant in the South West.
(
Permalink
)
Covid-19
Network Rail