The driver is thought to have 'misjudged' the railway bridge. The roof of the vehicle was ripped off around 6.40am this morning in Rocky Lane, between Haywards Heath and Burgess Hill, in Sussex.
(
Permalink
)
Bridge strike
Burgess Hill
Haywards Heath
Metro

Clydebank Post

Scotrail warned locals that there will be disruption to services at Haymarket today after a reports of 'a vehicle striking a bridge in the Haymarket area'.
(
Permalink
)
Balgreen Road
Bridge Strike
Edinburgh Live

A coked up HGV driver was four times over the legal drug driving limit and on the way to get something to eat when he crashed his lorry into a rail bridge.
(
Permalink
)
Bridge Strike
Camelon
Falkirk Herald

The Scotsman

A lorry colliding with a railway bridge near Aberdour caused delays and diversions on the Fife Circle.
A HVG struck the bridge on the B9157 just south of the village and it led to the train line via Aberdour being closed in both directions for more than two hours.
(
Permalink
)
Aberdour
Bridge Strike
Dunfermline Press

Passengers travelling on rail services between Dundee and Glasgow Queen Street are facing disruption after a vehicle collided with a bridge between Perth and Dundee.
A spokeswoman for the police said that officers were called at around 10.20am following a report that a vehicle had struck a railway bridge on Perths Tay Street.
(
Permalink
)
Bridge strike
Perth
A vehicle has crashed into a railway bridge, causing train services between Glasgow and East Kilbride to be cancelled.
(
Permalink
)
Bridge strike
Busby
New figures show three railway bridges in the Midlands have topped the list for the most bashed in Britain in 2020.
(
Permalink
)
Bridge strike
Network Rail

Press and Journal

Train services in Ayrshire have been axed after a farm vehicle struck a bridge. Services are expected to be affected until at least 2pm after the accident in Girvan.
(
Permalink
)
Bridge strike
Girvan
The Scottish Sun

One of Britain's most bashed bridge will be finally bypassed on Monday - re-routing errant lorries away from the much-dented Dumfries and Galloway railway crossing.
Roads officials hope the opening of the £17 million Dunragit bypass on the A75 between Stranraer and Dumfries will end Challoch bridge's unenviable record of being hit more than 100 times in the last ten years.
(
Permalink
)
A75
Bridge strike
Challoch
Dunragit
Stranraer
The A75 is closed at Dunragit to allow rail inspectors to check damage to a bridge after a crash.
(
Permalink
)
A75
Bridge strike
Challoch
Dunragit
Stranraer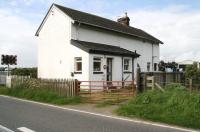 Dunragit: Approaching the level crossing at Dunragit from the north in the spring of 2007. The former station, six miles east of Stranraer Harbour, closed to passengers in 1965. The plaque alongside the back do ...
John Furnevel 31/05/2007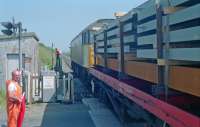 Dunragit: A reminder of when the Stranraer line carried freight - not so long ago, 1989. Here a northbound train of steel sections passes Dunragit level crossing and the token exchange has just taken place. The ...
Ewan Crawford //1989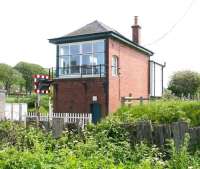 Dunragit: The signal box at Dunragit, seen from the south side of the crossing in May 2007, looking east towards the site of Challoch Junction.
John Furnevel 31/05/2007
BBC News article