On March 17 the Scottish Government announced that it would take over the ScotRail franchise from 2022.
ScotRail has been run by Dutch firm Abellio since 2015 but criticism over performance has seen the contract cut short.
(
Permalink
)
Abellio
Nationalisation
ScotRail
Evening Telegraph

Scottish Labour said any extension of Abellios ScotRail operation would amount to a 'kick in the teeth for passengers' amid industry speculation the Scottish Government is considering the option.
(
Permalink
)
Abellio
ScotRail
ScotRail franchise
The Department for Transport has been sharply criticised by train operators for trying to claw back hundreds of millions of pounds from the termination of railway franchises without explaining how the ...
(
Permalink
)
Abellio
The Times

Transport Scotland

Hundreds of ScotRail staff have been asked to consider quitting in a cost-cutting move condemned by one union as creating a 'climate of fear' amongst the workforce.
All administrative, clerical, supervisory and managerial staff across Scotland, including its Glasgow headquarters have been asked to consider voluntary redundancy, a matter of weeks after Abellio ScotRail announced a loss of £3.5m in its first full year operating train services in Scotland.
(
Permalink
)
Abellio
ScotRail
A campaign to devolve control of Scotland's railways to Holyrood is to call for support from all political parties.
It has been claimed the move would save the taxpayer £100 million a year and enhance customer experience on the railways by reducing journey times and delays.
Any savings would also be reinvested to fund increased services and improved rolling stock.
Scottish ministers are already responsible for the funding and managing of railways north of the Border through the ScotRail franchise which is currently operated by Dutch company Abellio.
(
Permalink
)
Abellio
ScotRail
The reliability of ScotRail trains significantly improved in the weeks after its improvement plan was published, according to new statistics.
The PPM data showed 89.7% of trains arrived within five minutes of schedule in the four weeks to 7 January.
This was a 6% rise on the previous four weeks, and a 2.8% improvement on the same period last year.
But ScotRail's annual performance remains below the 91.3% target set in Abellio's contract for the franchise.
(
Permalink
)
Abellio
ScotRail
UNDER-fire ScotRail issued an apology on social media every 51 minutes this year. The train operator has, so far, said 'sorry' to travellers 10,000 times in 2016 - an average of 30 apologies every day.
The news came on the day it was revealed monthly and annual season ticket holders would get a 'free week' paid for by the Government as a 'thank you' for their patience during disruption and upgrades.
ScotRail has faced heavy criticism for late and cancelled trains, with campaigners calling for Dutch parent firm, Abellio, to be stripped of the franchise to run the railways.
(
Permalink
)
Abellio
ScotRail
The Sunday Mail today exposes the growing scandal of late-running ScotRail trains missing out stops and leaving commuters stranded.
Dutch operators Abellio promised last month to stop trains from bypassing stations at peak times. But we can reveal that thousands of passengers are still being hit by the hated practice of "skip stopping" during the rush hour. If they're on the platform, they have to wait for the next train. If they're on board, they're forced to get off miles from their stop.
(
Permalink
)
Abellio
ScotRail
Station skipping
ScotRail is hoping to ease its acute overcrowding by drafting in more trains from south of the border.
The operator also plans to switch more trains to its busiest routes, including Edinburgh-North Berwick, to help reduce the commuter crush. News of the changes come days after ScotRail announced that two daily rush hour services on the Borders Railway would be doubled in length from next week to help cope with passenger demand. Abellio, which runs ScotRail, ordered 70 new trains when it won the franchise two years ago, but the first of its two fleets will not start arriving until next autumn, and the second is now delayed until the second half of 2018.
(
Permalink
)
Abellio
Borders Railway
ScotRail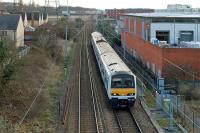 Hythe: A Class 321 EMU slows for the stop at Hythe station on 7th January 2012. It will call after at Colchester Town, reverse and terminate at Colchester. Private housing, a large DIY store and student flat ...
Mark Dufton 07/01/2012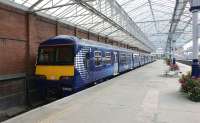 Helensburgh Central: Waiting for work. A pair of Class 320 EMUs in ScotRail blue, stabled in platform 3 (onetime platform 4) at Helensburgh Central on 23 September 2012.
John McIntyre 23/09/2012
Scotsman,Abellio

The Transport Minister has met with passenger groups, unions and political parties to discuss options for bringing Scotland's railways into public ownership.
Humza Yousaf said formal engagement would begin in the new year to look at creating a public sector bid for future ScotRail franchises amid ongoing criticism of performance under current operator Abellio.
Mr Yousaf has said such a bid could be ready for 2020 when a clause in the contract with Abellio would allow it to be broken.
(
Permalink
)
Abellio
Humza Yousaf
ScotRail
Scottish transport minister Humza Yousaf has called for "immediate improvement" in Scotland's rail services as ScotRail's performance improvement plan was published in full.
The Scottish government had come under pressure from opposition parties, including Scottish Labour, to reveal the details of the improvement plan due to a plague of recent problems affecting Abellio ScotRail services, including a train breakdown near Edinburgh and overhead wiring issues near Glasgow.
ScotRail's 249-point plan includes measures to improve punctuality and reliability through various local and national initiatives such as numerous infrastructure developments, better communication with customers and the launch of an 'On Time Every Second Counts' campaign.
Yousaf, who visited Edinburgh Waverley Station before speaking at a rail conference, said that he was "delighted" that the plan was being published, hoping that the publication will spur "immediate improvement" in ScotRail's performance. [From Richard Buckby]
(
Permalink
)
Abellio
Humza Yousaf
ScotRail
RTM

Aberdeen-based FirstGroup has revealed it is keen to make a bid for the ScotRail franchise as pressure mounts on Dutch operator Abellio.
The company reaffirmed its interest in regaining the contract it lost in 2014 after Scottish Labour released figures showing nearly 50 trains a day were either being cancelled or significantly delayed on Scotland's railway network.
Thousands of people have signed a petition calling on the Scottish Government to strip Abellio of the 10-year contract, worth up to £6billion, unless services improve.
FirstGroup ran the majority of Scottish train services for 10 years until they were taken over in April last year by Abellio, a subsidiary of Dutch national rail company Nederlandse Spoorwegen.
(
Permalink
)
Abellio
ScotRail
Dutch operator says any operator running the ScotRail franchise - public or private - does so to a 'tightly specified Scottish Government contract', meaning 'Ministers set fares and essentially determine how many seats are available and therefore how much overcrowding exists across the network'
(
Permalink
)
Abellio
ScotRail
Scotland's transport minister is to invite unions and other political parties to talks next week on setting up a public sector train operator.
Humza Yousaf revealed the move after widespread criticism of existing ScotRail services.
He said the contract could be cancelled in 2020 and contingency plans were in place for the Scottish government to take over train services earlier.
ScotRail said it was working to implement a 246-point improvement plan.
Dutch firm Abellio took over the ScotRail franchise in April last year in a 10-year deal worth up to £6bn but with the option for the Scottish government to cancel it at the halfway point.
(
Permalink
)
Abellio
Humza Yousaf
ScotRail
The RMT union is staging a day of protests in support of 'safer Scottish railways'.
The rail union is calling on the Scottish government to set out an immediate timetable for Abellio to be stripped of its ScotRail franchise.
It has said making Scotland's railways safer can only be done with a publicly-owned service.
ScotRail said it had invested hundreds of millions of pounds on new trains and improved technology.
Protests are being held at railway stations across the country.
(
Permalink
)
Abellio
ScotRail
A transport workers' union has renewed its call for Abellio to be stripped of the ScotRail franchise, claiming its performance has 'slumped'.
The RMT said Abellio was 'draining away key funds' that would be better spent on staffing, services and safety on Scotland's rail network.
The union hit out at the Dutch operator on Tuesday, on the eve of a series of protests in support of the Safer Scottish Railways campaign.
(
Permalink
)
Abellio
ScotRail
STV

ScotRail has been fined £483,000 for failing to meet required standards for trains and stations.
Performance inspectors found areas which missed targets included station toilets, ticket machines, train seats, toilets and cleanliness.
The results follow criticism of the ScotRail Alliance franchise, operated by Dutch firm Abellio, for delayed, cancelled and over-crowded trains.
(
Permalink
)
Abellio
ScotRail
The Scottish government stands ready to take over the ScotRail franchise through the development of a new public sector body if problems with its performance continue, it has emerged.
ScotRail's moving annual average (MAA) for performance has fallen from 90.3% to 89.6% since Abellio took over the franchise, prompting Transport Scotland to ask the company for an improvement plan.
Abellio holds the contract until 2025, but Transport Scotland can replace it at the 'break-point' halfway through in 2020.
The Scottish government confirmed yesterday that, using new powers awarded in March, Transport Scotland has started work to establish a public sector body to take over the franchise.
(
Permalink
)
Abellio
ScotRail
Rail Technology Magazine

A NEW nine-year franchise has been launched for the East of England, under the title of Greater Anglia.
The operator is Abellio, which has run two short contracts in the region since 2012, when it replaced National Express. [From Richard Buckby]
(
Permalink
)
Abellio
A petition calling for Abellio to be stripped of the ScotRail contract, backed by about 16,000 people, is to be presented to Transport Minister Humza Yousaf.
It calls for the Scottish government to act over delays and cancellations.
(
Permalink
)
Abellio
Humza Yousaf
ScotRail
THE Dutch company operating Scotland's trains have been warned they could be stripped of their contract within months.
Transport Minister Humza Yousaf has vowed to terminate Abellio's deal to run ScotRail if train delays and cancellations get worse.
(
Permalink
)
Abellio
Humza Yousaf
ScotRail
LATE trains, overcrowding, not enough seating, not enough carriages. Many rail travellers, as the petitions and protests of the past few weeks demonstrate, blame the current crisis in Scotland's rail service solely on its operator ScotRail owned by the company Abellio. However, a growing number of campaigners also believe the chaos is down to the government agency Transport Scotland too.
(
Permalink
)
Abellio
ScotRail
THE Welsh Government has chosen four possible operators of the next Welsh franchise, which starts in 2018 when Arriva's 15-year contract comes to an end. The aim is to create a 'not for profit' organisation, which the government said will be modelled on Transport for London.
The Government has selected Abellio Rail Cymru, Arriva Rail Wales/Rheilffyrdd Arriva Cymru Limited, KeolisAmey and MTR Corporation (Cymru) Ltd, all of whom will now move on to the next stage of the competition. A public consultation will also start in the New Year.
The successful bidder, to be known as an Operator and Development Partner, will run trains in Wales, assist with the evolution of the South and North Wales Metros and manage the transition to electric trains in several parts of the Principality. [From Richard Buckby]
(
Permalink
)
Abellio
The operator of Scotland's railway network has reiterated its commitment to the Far North Line in the Highlands.
ScotRail Alliance, which involves Abellio ScotRail and Network Rail, has been criticised for the quality of services on the line.
A railways expert and MSPs have concerns about the long-term future of the line that links Inverness to stations in Sutherland and Caithness.
But ScotRail Alliance said it was investing in the line.
(
Permalink
)
Abellio
Far North Line
ScotRail
TRANSPORT bosses have been urged to come clean about overcrowding on Scotland's failing railways. Labour warned passengers were being kept in the dark over the scale of jammed ScotRail services.
It challenged Dutch-owned operator Abellio and quango Transport Scotland to publish statistics on clogged routes.
Under the £6 billion franchise ScotRail has to compile capacity reports on the flagship Glasgow-Edinburgh line every four weeks and audit passenger numbers across the network twice a year. But the data is not released to the fare-paying public, unlike south of the Border where the 10 most overcrowded peak services are regularly published.
It comes amid a growing political row over the deal with Abellio making £1 million a month from the franchise since taking over from First Group last year.
ScotRail trains on a third of routes are late more often than they are on time, despite rising fares.
(
Permalink
)
Abellio
First Group
ScotRail
NEARLY 14,000 people have called for the controversial Dutch firm in charge of ­Scotland's train ­service to be stripped of their contract unless ScotRail improves.
The online petition urges the Scottish ­Government to take action against ­Abellio over the delays and cancellations suffered by commuters using ScotRail.
The firm have already been hit with £1.5million in fines for poor service, the ­Sunday Mail can reveal.
The petition and the ­experiences of 7000 ­passengers on the failing ­service will be delivered to Transport Minister Humza Yousaf at Holyrood this week.
(
Permalink
)
Abellio
Humza Yousaf
ScotRail
THINGS don't look good for ScotRail. Latest figures show that trains on a third of routes are late more often than they are on time. Figures also show that at stations like Arbroath, Glasgow High Street and Ardrossan Harbour only 10% are running on time.
We've also learned that the Dutch company Nederlandse Spoorwegen, which owns ScotRail operators Abellio, admitted Scotland's trains are run for the benefit of commuters in Holland.
Documents show the contract is used to make healthy profits on "limited investment". The boss of Nederlandse Spoorwegen said passengers in the Netherlands must benefit from the firm's work overseas - and there were calls for the deal to be scrapped and the rail service returned to public ownership.
(
Permalink
)
Abellio
ScotRail
DOCUMENTS penned by the parent company of the Dutch firm who operate ScotRail boast the contract is used to make healthy profits on "limited investment".
THE firm responsible for ­Scotland's crisis-hit rail ­network have admitted our trains are run for the ­benefit of commuters in ­Holland.
Business documents penned by the parent company of the Dutch firm who operate ScotRail boast the contract is used to make healthy profits on "limited investment".
The boss of Utrecht-based ­Nederlandse Spoorwegen (NS), who own ScotRail operators Abellio, says passengers in the Netherlands must benefit from the firm's work overseas.
(
Permalink
)
Abellio
ScotRail
UK: A contract for leasing company Angel Trains and Commonwealth Bank of Australia to finance a £900m order for 665 Bombardier Transportation electric multiple-unit cars for use on Abellio's new East Anglia franchise was signed on September 29.
Angel Trains said the 'largest rolling stock deal since the privatisation of UK rail' builds on its ongoing relationship with CBA and 'further establishes the bank's credentials in the rail industry'.
The deal covers 22 10-car and 89 five-car suburban EMUs which are to be built at Bombardier's Derby plant, providing a 'stable long-term workload' for more than 1 600 employees. [From Richard Buckby]
(
Permalink
)
Abellio
Railway Gazette

TESTING has started at the Velim test track in the Czech Republic of the first of 70 class 385 EMUs being built by Hitachi Rail Europe for the ScotRail franchise operated by Abellio.
This is the first of six four-car trains being built by Hitachi at its Kasado factory in Japan. The remainder of the order for 24 four-car and 46 three-car EMUs will be produced at Hitachi's new factory in Newton Aycliffe, Britain.
(
Permalink
)
Abellio
Class 385
Hitachi
ScotRail
International Railway Journal

Plans for a multimillion pound upgrade to Inverness train station has taken another step forward after the search began to find a full design team for the project.
The full business case for the plans has been completed and Abellio Scotrail Ltd is now ready to develop detailed design proposals – and has said work could start on the project by the middle of 2017.
The train operator, in conjunction with the council and region's transport partnership, commissioned Dundee-based architects Nicoll Russell Studios last October to carry out the initial design work.
Now the contract has gone out to find a full design team.
(
Permalink
)
Abellio
ScotRail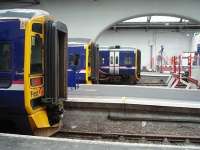 Inverness: First ScotRail Class 158 units line up at the buffers inside Inverness station. From left to right they are 158741, 731 and 702.
Mark Bartlett 30/03/2009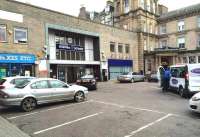 Inverness: The main entrance to Inverness Station, facing onto Station Square, just off Academy Street, on 19 November 2014. The Royal Highland Hotel (formerly The Station Hotel) stands alongside on the right.
Andy Furnevel 19/11/2014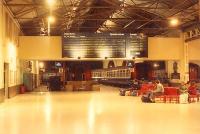 Inverness: The circulating area in Inverness station.
Ewan Crawford 03/01/1989
Talks aimed at resolving the ScotRail dispute have broken up, without any progress being made.
The RMT union met Abellio ScotRail management for an hour over its plans to change staffing levels on new trains.
The two parties held talks twice last week, brokered through the Arbitration and Conciliation Advisory Service (ACAS).
On both occasions, they broke up for both sides to consider their positions.
Members of the RMT have already staged a number of walkouts in the dispute, and further stoppages are scheduled. They include three of the four competition days at golf's Open Championship, which is being played at Royal Troon next week.
The RMT also intends to strike on Sunday 10 and Monday 11 July.
(
Permalink
)
Abellio
ScotRail
The RMT rail union has begun to ballot conductors for industrial action in a dispute over driver-only train services.
Talks between RMT representatives and Abellio ScotRail over the the introduction of new electric and high speed inter-city trains on Scotland's rail network broke down when the union said it had not received the assurances it had sought on the issue.
(
Permalink
)
Abellio
ScotRail
The head of ScotRail has pledged to improve the performance of train services after admitting to "unacceptable" delays for thousands of passengers.
Figures obtained by a Sunday newspaper show that the franchise, operated by the Dutch company Abellio since last April, has failed to meet punctuality targets for ten consecutive months.
More than 40 per cent of trains were delayed at the country's three busiest stations over the past year, the figures show. At one station, 90 per cent of trains were late in the same period.
(
Permalink
)
Abellio
ScotRail
Times