This shocking footage shows the moment a driver came within seconds of being crushed by a fast-moving train after not looking both ways at a crossing.
(
Permalink
)
Level crossing
Scotsman

Helensburgh train services are disrupted this morning after a lorry transporting timber struck level crossing barriers in Cardross.
(
Permalink
)
Cardross
Level crossing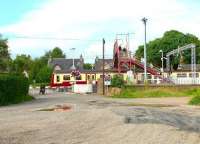 Cardross: Passengers exit Cardross station via the pedestrian footbridge on 27 July 2005, having recently disembarked from a Helensburgh bound train. The motor cyclist is forced to wait for the train to clear t ...
John Furnevel 27/07/2005
ScotRail passengers are facing delays this morning after a fault with a crossing level barrier was discovered in the Highlands.
(
Permalink
)
Delay
Level crossing
Press and Journal

Helensburgh train services have been delayed this afternoon after a vehicle struck barriers at a level crossing in Cardross.
(
Permalink
)
Cardross
Level crossing
A Ross-shire railway level crossing which has claimed several lives may finally be closed after full plans for a replacement bridge were lodged.
(
Permalink
)
Delny
Level Crossing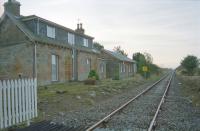 Delny: View south towards Inverness from the former Delny station level crossing in 1998.
Ewan Crawford //1998
Ross-shire Journal

A staggering 23% of professional drivers have admitted that if they knew the train timetable and did not believe a train was due to arrive, they would drive over a level crossing. The most common reasons cited for taking the risk was running late to make a delivery (12%) or a desire to finish work and get home early (16%). This was despite an overwhelming majority of professional drivers knowing that all vehicles must stop for the warning lights at level crossings.
(
Permalink
)
Level crossing
A heritage railway train carrying 77 passengers collided with a car on a level crossing in Mid Wales. An investigation is underway after the incident which happened at around 11.45am on Thursday on the Welshpool and Llanfair Light Railway line.
The 823 Countess locomotive was passing over the level crossing at Cyfronydd Station when it collided with a red Chevrolet car.
The driver of the car escaped unharmed, along with the 77 passengers and crew on board the train, however significant damage was caused to the car and the locomotive.
(
Permalink
)
Crash
Cyfronydd
Level crossing
Shropshire Star

A man has died after his car was hit by a train on a level crossing in Gloucestershire.
The vehicle was struck by the Great Western Railway London Paddington to Cheltenham Spa service at 15:10 GMT.
The man, who was believed to have been driving the car, died at the scene of the crash in the Frampton Mansell area, British Transport Police (BTP) said.
(
Permalink
)
Level Crossing
A man has died after his car was hit by a rush-hour train on a rail crossing in North Yorkshire.
The crash near the village of Rillington, near Malton, involved a First TransPennine Express train, which was travelling from Scarborough to Liverpool Lime Street at the time.
(
Permalink
)
Crash
Level crossing
Rillington
Sky News

A freight train used for taking spent nuclear fuel to the Sellafield site in Cumbria hit a car on a level crossing, police said.
The vehicles travelled 300m (984ft) down the track following the crash at the New Road crossing, Silverdale, at about 19:00 GMT on Tuesday.
No one was injured but both drivers were treated for shock. The train was not loaded at the time. [From Mark Bartlett]
(
Permalink
)
Crash
Level crossing
New Road Crossing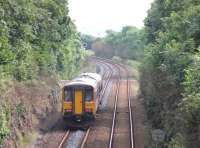 Silverdale: A pair of Northern single units approaching Silverdale level crossing in September 2012 heading for Carnforth and Lancaster with a Cumbrian Coast service.
Mark Bartlett 03/09/2012
A teenage car driver remains in a serious condition but is said to be 'improving' after a level crossing crash in south west Scotland.
A train struck a car at Dunragit village near Stranraer at about 13:45 on Sunday.
(
Permalink
)
Crash
Dunragit
Level crossing
Stranraer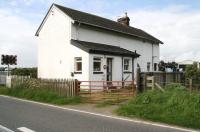 Dunragit: Approaching the level crossing at Dunragit from the north in the spring of 2007. The former station, six miles east of Stranraer Harbour, closed to passengers in 1965. The plaque alongside the back do ...
John Furnevel 31/05/2007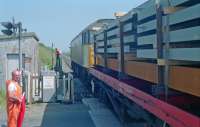 Dunragit: A reminder of when the Stranraer line carried freight - not so long ago, 1989. Here a northbound train of steel sections passes Dunragit level crossing and the token exchange has just taken place. The ...
Ewan Crawford //1989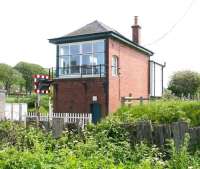 Dunragit: The signal box at Dunragit, seen from the south side of the crossing in May 2007, looking east towards the site of Challoch Junction.
John Furnevel 31/05/2007
A motorist was killed when a train crashed into a car on a level crossing in Cumbria. The ambulance service said the car became trapped under the train at Wraysholme, Flookburgh, near Grange-over-Sands, on Monday afternoon.
(
Permalink
)
Crash
Level crossing
Wraysholme
One person was killed when a 100mph (161km/h) train hit a car at a level crossing in Norfolk. The 0622 GMT One Railway service travelling from Colchester in Essex to Norwich, collided with a Vauxhall Astra at the crossing at Swainsthorpe.
(
Permalink
)
Crash
Level crossing
Swainsthorpe
A train hits a car on a level crossing in East Yorkshire killing the car driver and injuring five rail passengers. British Transport Police said the Doncaster to Scarborough service hit the car on the crossing close to the village of Rawcliffe Bridge near Goole.
(
Permalink
)
Crash
Level crossing
Rawcliffe Bridge
A man accused of deliberately leaving his car on a railway line claims he tried to warn the driver. A court has heard that the driver of a car abandoned on a railway track on Monday, desperately tried to warn the train driver that the line was blocked. Thomas Patrick McLaughlin, of Carnreagh Road, Claudy, is accused of attempting to murder a driver and passengers on the train which hit his car at Dunloy.
(
Permalink
)
Crash
Dunloy
Level crossing
A train crashes into an abandoned car at a level crossing in County Antrim. All 30 passengers and the driver escaped from the scene unharmed and the train did not derail. The Belfast to Coleraine service hit the vehicle in Dunloy shortly before 2240 BST on Monday.
(
Permalink
)
Crash
Dunloy
Level crossing
An off-duty policeman saw a high-speed train hit a car on a level crossing, killing seven people in Berkshire. He had contacted emergency services to say the car was stopped on the crossing, but did not have time to avert the tragedy, police said. The 1735 First Great Western Paddington to Plymouth service was derailed in Saturday's crash, near Ufton Nervet.
(
Permalink
)
Crash
Level crossing
Ufton Nervet
An Edinburgh to Inverness train struck a car on Moulinearn Level crossing. A man, seriously injured when the car he was travelling in was struck by a train on a level crossing near Pitlochry, has died in hospital.
An inquiry has been launched after the train carrying around 30 passengers collided with a car at the Moulinearn level crossing near Ballinluig in Perth and Kinross on Saturday.
(
Permalink
)
Crash
Level crossing
Moulinearn Level Crossing
BBC Website