Network Rail

GBRf & MSC UK drive sustainability with new 5-year rail deal GB Railfreight (GBRf) and Mediterranean Shipping Company (UK) Ltd. (MSC) are delighted to announce a new five-year deal, further strengthening their long-established relationship and joint commitment to delivering sustainable solutions for customers. GBRf has been a provider of rail services to MSC since 2002.
(
Permalink
)
GBRf
Green
MSC UK
GB Railfreight

Global Railway Review

Translink is to assess the options for procuring zero-emission trains in support of its recently published Climate Positive Strategy, which sets out an 'ambitious' target to achieve a 50% reduction in train, bus and building emissions by 2030, net zero emissions by 2040 and to go beyond this to ...
(
Permalink
)
Green
NI Railways
Translink
Zero Emissions
There's a scene in The Polar Express in which Tom Hanks' train guard punches a multiplicity of holes in the kids' tickets, leaving showers of tiny paper specks cascading to the floor.
(
Permalink
)
COP26
Green
Joe Biden
Rail companieshave todaypledged to makestationsacross Britainmore sustainable. Actionto reduce waste,supportlocal wildlifeandcutthe carbon footprint of railway stationswill be informed bythe industry's ...
(
Permalink
)
Community Rail Network
Green
Community Rail Network

The vast investment in rail infrastructure outlined by Lorna Slater in the Green Party manifesto will delight those living in Durness, Ullapool, Campbeltown, and Kelso who currently lack a railway station. It will indeed be a pleasant surprise to the residents of Lerwick, whose nearest railway station is in Bergen.
(
Permalink
)
Green
New plans floated by the Scottish Greens would see the Rosyth to Europe ferry line reinstated after more than a decade.
(
Permalink
)
Green
Rosyth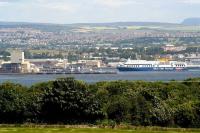 Rosyth Dockyard: Blue Star 1 arriving at Rosyth with the ro-ro ferry from Zeebrugge on 26 June 2008. Passenger services on the route ceased at the end of 2010 although a freight only service is still in operati ...
John Furnevel 26/06/2008
Evening Telegraph

Scotlands newest 100 per cent electric commuter trains cut carbon emissions by over 10,000 tonnes in 2019, making a significant contribution towards Scotlands ambitious 2035 net zero railways target.
(
Permalink
)
COP26
Class 385
Green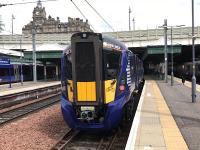 Edinburgh Waverley: 385003 about to leave platform 16 with the 1415 to Glasgow Queen Street on the first day of Class 385 passenger operation - 24th July 2018.
Colin McDonald 24/07/2018
The company wants to provide more environmentally-friendly buses and trains as it plans for future.
(
Permalink
)
Translink
green
The themes of decarbonisation and innovation were evident during this year's RFG Scottish Conference, with all the presenters emphasizing a strong positive outlook for rail freight in the years ahead. The event was held online on 24 March. In his keynote speech, Michael Matheson, MSP, Cabinet Secretaryfor Transport,Infrastructureand Connectivity, praised the industry's 'heroic efforts' ...
(
Permalink
)
Decarbonisation
Green
Innovation
RFG
Rail Freight Group

Organisations across the North East are coming together to showcase walking & cycling projects that are improving how we travel around the area. Nestrans, along with Aberdeen and Aberdeenshire Councils, and NHS Grampian, will be presenting to elected members, local authority officers, and representatives from key partners. The event, Moving Towards Net Zero, will detail the ongoing and upcoming active and sustainable travel projects that aim to make the area cleaner, greener, healthier, and safer. Topics include the new Regional Transport Strategy, Active Travel Action Plans, the Integrated Towns project, ...
(
Permalink
)
Aberdeen
Aberdeenshire
Green
Nestrans

Angus roads bosses have redoubled their efforts to get local drivers out of their cars and use greener forms of transport instead.
(
Permalink
)
Angus
Green
The Courier

Hydrogen trains are being considered for north-east rail journeys in the future if studies show they should be supported.
(
Permalink
)
Green
Hydrogen
Evening Express

ScotRail is already going the extra mile to keep safe, people, like key workers, who use the railway for essential travel.
But, the train operator is also helping make Scotlands Railway healthier in general by fighting climate change as we look forward to Novembers COP26 event in Glasgow.
(
Permalink
)
COP26
Climate Change
Green
ScotRail
The Scottish forestry sector is estimated to contribute around £1bn to the economy each year, with around three-quarters of that coming from forestry and timber processing. Around 10m tonnes of timber are harvested each year, and this is forecast to increase over the long term as Scottish Government increases forest planting to support its green recovery and climate change ambitions. The most recent update to the Climate Change Plan stated that Government will increase woodland creation from the current level of 12,000 hectares in 2020/21 up to 18,000 hectares in 2024/25.
(
Permalink
)
Climate Change
Green
Timber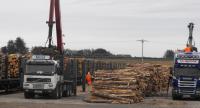 Georgemas Junction: Close up of the wagon loading equipment in use for the trial timber trains at Georgemas Junction, seen on 4th August 2020.
Victa Railfreight 04/08/2020
The railways in the UK, Australia and India getting power from the sun in different ways.
(
Permalink
)
Green
Post-coronavirus financial pressure on governments and mounting public concern about climate change may finally prove the catalysts to unlock substantial private investment in European rail freight. Stephen Layburn and Tim Jackson of transport finance house Centrus describe the outlook to Nick Kingsley.
(
Permalink
)
COVID-19
Green
Most Britons see their car as more important now and would not choose greener alternatives.
(
Permalink
)
COVID-19
Green
the Guardian

Tube users are experiencing severe delays on the Central Line following the derailment of a train on Thursday.
The line remains closed in both directions between Leytonstone and Liverpool Street, in east London.
A special bus service is running and Tube tickets are being accepted on buses and some mainline rail services.
Safety checks are under way on the Tube's storage facilities after a dislodged roll of tarpaulin landed on the tracks, causing the derailment.
Three carriages came off the rails on a westbound Central Line between Mile End and Bethnal Green during the morning rush hour.
(
Permalink
)
Bethnal
Derailment
Green
Mile End