ScotRail is urging West Dunbartonshire customers to buy tickets in advance following the relaxation of rules on non-essential travel.
(
Permalink
)
Ticketing
Dumbarton and Vale of Leven Reporter

The rail operator says they are cracking down on customers who are dodging buying a ticket because of the reduction in front-line staff on trains during the pandemic.
(
Permalink
)
Ticketing
Rail campaigners have branded moves to axe Fife's popular concessionary rail scheme 'utter madness'.
(
Permalink
)
Fife
Ticketing
Evening Telegraph

The Courier

The reinstatement of concessionary fares on the Sound of Harris and Sound of Barra ferry routes, is set to be considered by councillors in the Western Isles when Comhairle nan Eilean Siars Transport and Infrastructure Committee meets next.
(
Permalink
)
Caledonian MacBrayne
Ticketing
Comhairle nan Eilean Siar are seeking an intervention from the Minister for Energy, Islands and Connectivity, Paul Wheelhouse MSP to stop a proposed double year increase in commercial vehicle fares proposed by Calmac.
(
Permalink
)
Caledonian MacBrayne
Ticketing
Islanders have blasted the 'absolutely unacceptable' cost of lorries delivering vital supplies having to pay nearly five times more than a holidaymaker in a similar sized vehicle to take a ferry.
(
Permalink
)
Caledonian MacBrayne
Ticketing
The Herald

The price of a monthly ScotRail ticket has caused an uproar after the travel operator revealed it was cracking down on fare dodgers.
(
Permalink
)
Ticketing
ScotRail have confiscated 10,000 tickets and handed out £17,000 in fines to lockdown fare-dodgers in the past few months. The rail firm is cracking down on customers taking advantage of reduced staff numbers during the pandemic to avoid paying the full price of their journey.
(
Permalink
)
COVID-19
ScotRail
Ticketing
The Scottish Sun

Rail fares in England and Wales will increase by 2.6% on Monday, the first time the government has chosen to put up prices above RPI inflation since 2013, in a move that has been criticised for further pricing middle income earners out of rail travel and undermining the governments green credentials. The price rise comes despite calls for freezes or even discounts to help attract passengers back to the railways.
(
Permalink
)
Ticketing
The Guardian

Innovative discounts to attract passengers onto trains post-lockdown are being investigated by Scotlands main operator.
(
Permalink
)
Ticketing
Highland Liberal Dems have set out plans to improve public transport by empowering Highlands and Islands Transport Partnership (Hitrans) with more funding to develop and operate its own integrated ticketing scheme.
(
Permalink
)
Ticketing
Strathspey Herald

The RMT trade union has written to the government calling for a suspension of on-train revenue protection and ticket inspection duties at all Train Operating Companies for the duration of the coronavirus lockdown.
(
Permalink
)
COVID-19
RMT
Ticketing
Railway Gazette

ScotRail is working on overhauling its ticketing options as it expects post-pandemic travel patterns to be dramatically altered.
(
Permalink
)
COVID-19
Ticketing
The Times

Rail campaigners are calling for a new type of rail ticket for people who spend only part of their working time in the workplace. Neil Middleton, a director of Railfuture who is leading the campaign, said: 'There's often an enormous gap between the price per journey for someone travelling five days a week with a season ticket and someone who travels two or three days a week " our proposal aims to bridge this gap.'
(
Permalink
)
Ticketing
Railstaff

Passengers on Scotland's main train operator will see ticket prices going up by up to 2 per cent less than on other rail firms.
(
Permalink
)
Fares
ScotRail
Ticketing
Transport chiefs have written to rail firms to demand they introduce flexible season tickets next year. But Transport Secretary Grant Shapps is facing a standoff with Chancellor Rishi Sunak over the plans.
(
Permalink
)
Ticketing
The Sun

Edinburgh Trams

The UK Government must look to reform the way rail fares are set to meet the needs of changing working patterns post-pandemic, the Rail Delivery Group (RDG) has said.
(
Permalink
)
Rail Delivery Group
Ticketing
Holyrood Website

Avanti West Coast

Passengers travelling from Edinburgh to London's airports will for the first time be able to purchase their express rail tickets into the capital from ticket agents in Scotland.
The idea has been brought in to encourage passengers to use the train travelling out of the airport, as research revealed that customers could save a combined £163m a year and 234 million minutes if they took the train from the airport into London, rather than relying on taxi services.
(
Permalink
)
Edinburgh Airport
Ticketing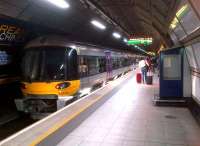 Heathrow: A Heathrow Express ready to depart for Paddington from Heathrow Terminal 3 on 1 June 2013.
Ken Strachan 01/06/2013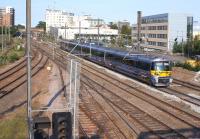 West Ealing Junction: A Heathrow Express bound for Paddington runs past the camera towards West Ealing station on 4 June 2011. On the far left is the Greenford line.
John McIntyre 04/06/2011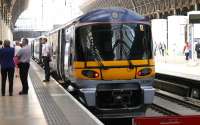 Paddington: An aggressive looking Heathrow Express stands at Paddington on 20 July 2005, with its minder bearing more than a passing resemblance to Vinnie (mind your head in the door sir) Jones.
John Furnevel 20/07/2005
RTM